While working with clients on managing their paperwork and filing systems, and/or time management/productivity we often come across very old (meaning over a year) TO DO lists.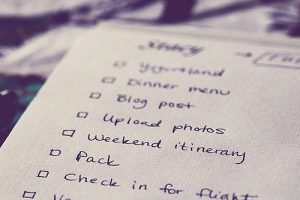 Are YOU haunted by these? Know they are out there lurking to challenge and shame you? I AM!!!
Here are some thoughts to guide you as you contemplate your next move against these demons.
Option #1: Look at them
Pros:
They can serve as a reminder about some still very important priorities that may have fallen off your daily and weekly planners. Scheduling the tasks back in your life can get you on track to achieve your goals.
They can give you a sense of accomplishment when you note what DID get done.
They can give you a GOOD LAUGH at the things you thought were urgent.
You can see that the world did not end because you were not able to get to a certain project.
Cons:
Viewing what did NOT get done can make you feel frustrated or ashamed or angry.
You are using time that might be better spent on doing your top 3 high priority tasks as you know them TODAY.
Option #2 Throw them out
Pros:
You avoid any negative emotions that might arise
You are able to move on from the past and be in the NOW
Cons:
You might miss out on a learning opportunity. Insights you might gain include:

That there are simply not enough hours in a day/week/month/year to do what we all yearn to do.
Accepting the concept of limits can be liberating.
Our to do lists are sometimes not in alignment with our core values and/or abilities.
We might be trying to prove something to ourselves and/or others and that might not be a good thing.
Perhaps we are avoiding confronting something that could stir up uncomfortable thoughts and feeling.
My recommendation:
Take an hour or two off and, armed with a legal pad or journal, bring those lists to a coffee shop/library or other secret hideaway. Review them in a loving, self-accepting way. Jot down any thoughts that arise.
Then, like you would with the old tub of cream cheese that is festering in the back of the frig, growing green and black molds, TOSS the old to do lists out.
Onward to what calls to you NOW!