NAPO®'s prestigious
Golden Circle™
was formed in 1990 to recognize members who have attained an elevated level of experience. Today, the Golden Circle designation acknowledges the expertise of members who have been members in good standing for five years or more. This prestigious designation recognizes your commitment to your profession, the organizing industry, and National Association of Professional Organizers® as The Organizing Authority®. The designation of Golden Circle demonstrates that you are a committed business person who values education, professional development, and staying current on trends and advancements in the industry. It signals that you have aligned yourself with an established and esteemed association that leads and advances the organizing and productivity profession.
The NAPO Golden Circle represents the essence of the NAPO mission: to be the leading source for organizing and productivity professionals by providing exceptional education, enhancing business connections, advancing industry research, and increasing public awareness.
Benefits of Golden Circle include:
Golden Circle designation in your listing in NAPO's Member Directory
Fellowship, camaraderie, and the opportunity to share experiences and network with other veteran NAPO members through the Golden Circle POINT Community.
Recognition at NAPO®'s Annual Conference via a ribbon designating you as a Golden Circle member and the opportunity to attend the Golden Circle members-only session.
NAPO® News, NAPO's award-winning quarterly fully interactive digital newsletter, provides Golden Circle members the opportunity to contribute a column in each issue, sharing your expertise and distinguishing yourself among your peers.
The opportunity to attend local Golden Circle meetings and events throughout the world coordinated by Golden Circle members. You do not need to be affiliated with a NAPO chapter to take part in these events.
The new Golden Circle digital web badge. Golden Circle members will receive a new Golden Circle digital web badge celebrating each five year milestone as a NAPO member and are encouraged to use the Golden Circle digital web badge on their website, social media, and marketing materials.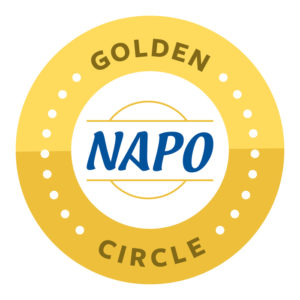 NAPO Professional Members who have been members for five or more years are recognized for their commitment to the profession by receiving the NAPO Golden Circle designation. These veteran members have the opportunity to attend local Golden Circle meetings and events, attend a special Golden Circle-only session at the NAPO® Annual Conference & Organizing Expo™, and receive a digital web badge to use in their brand marketing. (source: www.napo.net)
NAPO-GPC Liaison: Barbara Berman