You're packing to move and you can't believe you own this much.
"Where did all this stuff come from anyway? How did it all fit in here in the first place? I can't believe how long this is taking and how many boxes we have! AAAaahhhh!!!!"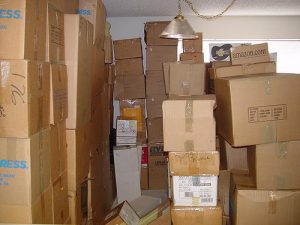 Well, it's true. When we pull everything out of its storage space, we can see the volume of what we really have. And, for those things that haven't been seen or touched in years: much of it is astonishing.
"Cans of hairspray? Wait. I haven't bought hairspray in a can in at least 2…uh, 5…oh, I don't know – better throw that out. How did these shoes get back here? Man, they're dusty. And sort of misshapen. Well, okay very misshapen. Nevermind. Out! And, wait. Do we really have 6 new containers of black pepper? Six? I had no idea. This will last us forever!"
NOW is your chance!
You are moving into a new home. Whether larger or smaller than your last, it's an opportunity to get organized – right from the start! Here are 6 spaces to set up when you move in so you can get and stay organized:
Spice Storage: There are so many options for organizing spices that there is really no reason you need to fight to find what you need, have bottles and jars falling out onto you as you reach behind, or repurchase multiples of what you already have.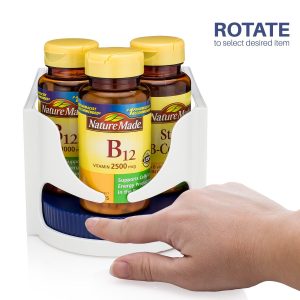 Pantry: DIY or go the extra mile and get pro-installation. A pantry organizing system will be a delight to your family today and a great selling point tomorrow.
Under Sinks: Either in the kitchen or bathrooms, under sink storage will make ALL the difference. Enjoy the control and say goodbye to yucky under-sink messes!
Shoes: The struggle is real. First decide where you want to store them (By the entryway? In a closet? Under the bed? In the garage?) Then, reign them in.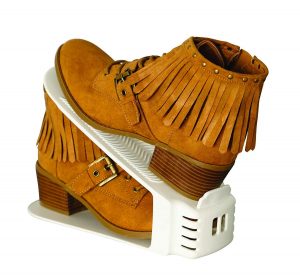 Bedroom Closets: If you are renting a home, you may want to save money and purchase some temporary solutions that you can take with you when you move out. For homeowners, installing built-ins is the way to go.
Storage Area: Before you go building columns and walls of heavy boxes stacked one atop another; stop and think. This is what got you into the last mess of storage chaos. Is there room for some shelving? Is there ceiling or wall space to be taken advantage of?
Make the changes and don't look back. Move in and Move on.
Disclaimer: products in this post are in no way endorsed or sold by NAPO©
About the Author