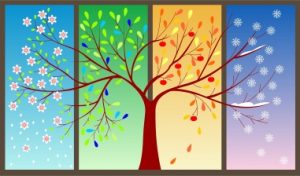 Some of us love change. With each new month we tend to change our clothing, eat different foods and decorate our homes. That's a lot of work for some of us. How do you remember everything that needs to be done? I use my calendar. Each month reminds me of what needs to be done. Below is a monthly glance at my calendar.
January
First on the list is the holiday decor, accessories, and gifts. If you do it right, you will be very happy unpacking next year. Clean, sort, contain, label, and store all your holiday items. I give the house a good cleaning hoping to pick up every pine needle from the tree, plus all the spills and dribbles from my youngest guest. Next, I purge my files of last year's documents and put them in my tax file. Even if your financial documents are online, you can do this. This updates the file for the new year. Then, I hibernate, and I don't feel guilty!
February
This month I commit to organizing my photos. I place last year's photos on the dining room table and create one book for each of my three children. I organize my videos in the cloud which although it takes a few weeks, I get it done. In the meantime, I cook soup, lots of hearty soups. My house is warm and the aroma is wonderful.
March
Now is the time to find my "green" clothes or at least put my wools away in hopes of an early spring. I visit my friends more and schedule game nights. Usually, I am freezing in the spring, so I increase my cardio exercises. I enjoy the soups I put in the freezer. I also change the clocks, check our batteries and discuss a fire evacuation plan with our family.
April
Now is the time to clean all the windows and blinds and take the covers off the outdoor furniture. I clear out the dead plants/shrubs in the yard, decorate for the spring holidays and clear out the garage. I also schedule to get our air conditioning system serviced.
May
Gardening begins now. Flags go out on Memorial Day weekend. Clean and repair deck/patio as needed. I air out our suitcases, Jersey shore here we come!
June
Purge the children's rooms, store school memories and wash out the backpacks. I scrub the freezer and prepare for my 4th of July Ice Cream & Fire Works party. Also, I wash our grill accessories and summer platters.
July
Start to relax into summer and enjoy.
August
Swim in the ocean as much as possible. Read on the beach. I deserve it!
September
Concentrate on back to school paperwork and schedules. It's school shopping time! Put vacation accessories away and repack pool bags for next year. Clear dead plants and shrubs. Harvest the veggies. Bring flags in. Put summer accessories towards the back of the garage.
October
Bring my fall clothes down from the top of my closet then shop for what's missing. Halloween décor and costumes come out just for fun. Make sure the garage is clean so I can retrieve the holiday supplies.
November
Heavy kitchen cleaning is done at this time, food shopping and of course, eating. Check fire alarm batteries, smoke detectors and have that fire safety discussion again. Cover deck furniture.
December
Holiday madness, parties people & food!
How do you remember?
An easy way to keep up with the changing seasons is to set an event in your calendar for each month and have it notify you. Or, maybe break up things into weekends, starting each Saturday morning with a "things to do list." I pretty much have it memorized and enjoy the changes that the seasons bring.
Happy autumn to you!
Click on the title above to learn more about the featured author.