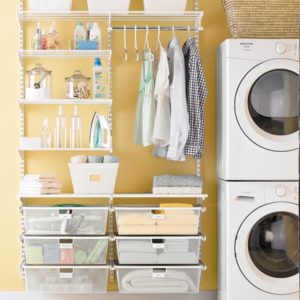 Do you dread entering your laundry area because it's filled with piles of dirty clothes and who knows what else? Now is a good time to make a clean, fresh start!
1. Visualize your ideal space.
· Picture how you would like the room to look and consider how it should better function.

2. Reduce the excess.
· Remove items that don't belong in the laundry room and put them where they really should live.
· Eliminate items you don't want (use up, share with others, donate, or toss).
3. Maximize the space.
· Install shelves or cabinets above and/or next to washer and dryer.
· If space allows, place a narrow rolling cart between your washer and dryer to store small items.
· Install a wall-hanging ironing board, hanging rack and/or folding table to save space.
4. Organize what you keep.
· Assign a home for each item, keeping similar items together.
· Keep frequently-used items close at hand and less-frequently used items higher or lower.
· Dedicate space for sorting dirty clothes; use bins or rolling carts to separate and contain whites, colors, delicates, and heavily soiled items.
6. Decorate the room.
· Hang artwork, put down a throw rug, purchase attractive hampers, etc. so you feel happy and peaceful in the room.
7. Develop a laundry schedule.
· Make doing laundry a ROUTINE – daily, every other day, weekly, etc.
· Make it as enjoyable as possible – fold laundry while watching TV, talking on phone, etc.
8. Get help from family members.
· Have family members empty pockets, pre-spot and put their dirty clothes in the hamper.
· Delegate the folding of clean laundry and putting clothes away.
9. Follow through!
· Complete the laundry cycle and put clothes away and have family members do the same.
· Reward yourselves with a treat when you've completed the process.
BONUS TIP #1: To have a truly clean start, take your accumulated laundry to your local laundromat and have them do the wash for you. Approximate cost = $1.00/lb.
BONUS TIP #2: Use Color Catchers (by Shout) or Color Grabber (by Carbona) when washing lights and darks together. They really do catch the color!