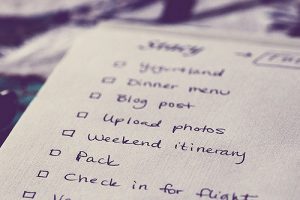 As the year closes, I am inspired to note some of the TOP Productivity and Organizing Tips that I personally used throughout the year that made the most positive difference in my daily life:
1. Do the hardest task first thing in the morning, before opening emails.
2. Completely clear off your desk area at the end of the day, so that the work space is clean and clear for the start of a new day.
3. Be clear on priorities so that when you feel "pulled in many directions" you can quickly and methodically generate a numbered "to do" list that sets the mind at ease.
4. Compartmentalize: accept that time and energy is limited; define how many hours each category of your life gets and make peace with that.
5. Use a small zip pouch in your purse into which you put receipts and other scraps of paper.
6. Listen, don't interrupt: so much can happen when you hold a silent space while speaking with a friend, relative, client, co-worker. Getting to understand more deeply can lead to better success/solutions.
7. Set aside tasks that don't require huge amounts of brain activity (e.g. laundry, opening mail, putting stuff away) to those times of day when good quality mental prowess is at a minimum,
8. Plan the week the Thursday before.
9. Pad your schedule: things take longer than anticipated and the Unexpected always happens. Wiggle room is imperative.
10. And most important: schedule in, as an event in my calendar, time out for self-care! Yup, even purely FUN STUFF!
I've made this list, I'll be checking it twice… and every week to make sure I stay on a productive and healthy path in 2019. Wishing the same and A Happy New Year to All!