Here are simple ways to put the sanity back into the process of packing for a trip: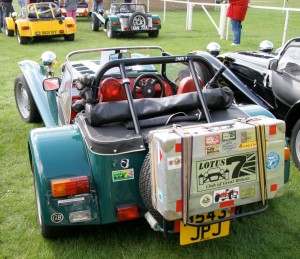 Keep it simple; what do you really need to bring that won't be available where you are going?  With all of the new rules and fees for traveling these days, it is wise to take only what is absolutely necessary.  Think of the stuff that you pack as paying to take it by its weight.  You are paying for everything you pack.  Choose wisely.  Is it worth its weight?
Pack a "bathroom bag" with the toiletries that you use every day in your bathroom routines.  This is a great time to make use of those travel size toiletries you have saved.  Keep this bag packed and stocked at all times.  Then when you are packing for a trip, the bathroom bag just goes right into the suitcase.  No more unpacking and repacking for every trip.  This also comes in handy if you run out of your regular supply and forget to replenish right away.  I've done this for years and it really works.  An added benefit of this is that you can be all packed before you take your last shower before you go.  You don't have to wait to pack your last minute toiletries.
Invest in a few classic pieces of clothing that can be dressed up or down, depending on the situation.  Dress in layers for variations in weather/temperature can be unpredictable.  One good sweater or light jacket that goes with everything is a handy piece to have.  Assemble a wardrobe that can easily be mixed or matched to create several different outfits from a few basic pieces.
Stick to the basics of neutral colors and dress up your outfits with accessories.  It takes up far less room in the suitcase to pack an accent scarf or tie, than it does to pack an additional outfit.
Once you have packed, consider eliminating half of what you packed.  Don't pack based on the "just in case" thinking.  Pack based on what you know you need.  If a situation arises, and you have packed based on the above tips, you will have what you need to be flexible.  And it is a lot easier to simply say, "I didn't know I would need to bring that.", than to pack for every contingency and be cranky because you had to pay a lot in baggage fees and drag around a heavy suitcase of stuff that you didn't even end up using at all.
Pack like things together.  Put all of your electronic gadgets and chargers, etc in one place.  Pack the snacks together, as well as the reading materials or work to do as you travel.   There are few things more frustrating than searching through multiple pockets or compartments to find what you need.  The "assign a home" concept of organizing applies to travel too.  If you use the same travel bags or suitcases, put the same things in the same places each time you pack, and you will find what you are looking for with a lot less stress.
Be comfortable.  Bring what feels good to wear or what you feel confident wearing.
Stay true to yourself and you will always look fabulous!  It doesn't make sense to go on       vacation to reduce stress and then pack in such a way as to cause you more stress.  Pack well and enjoy your trip.