People often wonder about the possible value of items they have accumulated over many years. These items are often viewed as "treasures" which may have significant resale value. Finding the "treasures" among their possessions often surfaces when:
Organizing or reorganizing
Clearing space in basements, attics and garages
Moving or selling a home
Downsizing living space
Dealing with an estate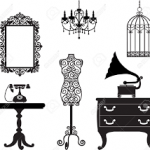 Many of the items accumulated may not have been purchased by the current owner including inherited items, gifts received, or collections of a spouse who has passed away.
People often have a sense of the value of some of their valuables. However, in many cases the values are from past information or are based on a retail price that does not represent current resale value.
Many people research and try their hand at determining resale values. The internet is the most common resource used. There is a great deal of information available on the internet,  so much so, that it can become overwhelming. However, it is possible to get a sense of what to expect in the current market. A few resources which are helpful, free, and fairly easy to use are EBay, Live Auctioneers, and Invaluable. Each of these resources provide a history of the selling price of items which have been offered through their sites. They provide the sales history with no charge once you have registered (registration is free). When researching items, it is important to look at the selling price results of the same or similar items. Using the asking price is not reliable because the seller can ask any price they would like for an item. Therefore, it is the selling price which provides a more accurate measure of resale value.
Often, another challenge is properly identifying the item to be valued. There are reproductions or copies which can be difficult to differentiate from originals. There are maker marks and signatures which are difficult to find and read. I have had clients get extremely excited about an item they saw on Antiques Road Show that was worth many thousand of dollars and looked just like the one they own. In most cases, there are subtle differences and their item is of much less value.
It is helpful to have the help of a trained eye. There are professional resources available to help identify the value of potential treasures:
A qualified appraiser can provide valuations and is trained to do so. The American Society of Appraisers (ASA) and the International Society of Appraisers (ISA) certify appraisers. Both are highly respected organizations and provide certified appraisers on their website. Charges for appraisal services vary depending upon the appraiser and the level of valuation required.
Higher end auction houses are an efficient resource in identifying valuable items and estimating the current market value. There is generally no charge to provide an estimate. It is important to use an auction house regularly offering your treasure.
A common question I receive relates to collectible plates and other collectible items which have been purchased on late night television throughout the decades. In most cases, there is little or no value to these items. When there are many of something sold to many collectors, the value does not often increase. The resale market is driven by supply and demand. When there is a large supply of collectible items made for collecting, there is rarely enough demand to make them valuable.
Finding treasures is an adventure which is rewarding and disappointing at times. Enjoy the adventure and I wish you good luck as you treasure hunt.