Mental clarity begins with having the space, time and freedom to focus on what's important to you.
Let's start with what happens when you have a lack of organized space. Disorganization creates a feeling of being crowded and out of control of your things, which leads to lack of mental clarity.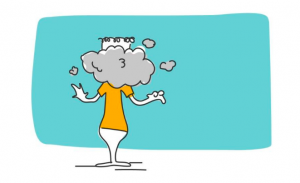 Let's take a personal poll:
1) Do you spend too much time looking for your stuff?
2) Do you feel like you are always in a rush?
3) Do you feel like your space does not support what you want to accomplish?
If any of the these sound familiar, then imagine your work space right now. Perhaps it is your desk or another place where you do most of your mental work, you know, the stuff that you need to get done every day. Take a moment and imagine you sitting down, about to get to work on a big project.
How do you feel about this space?
Do you feel like it is inviting you in and you are excited to get your work done or are you repelled by what it looks like? A space that repels, doesn't support you to do your best work. A space that is inviting creates calm and clarity and allows you to be productive.
Creating an inviting, supportive space is different for each person. Yet, it comes down to the same thing for everyone. Choose to surround yourself with only things that you need and you love. That's hard to do, because we all get attached to our stuff, however; when you create more space by having less stuff, you will feel more focused and in control.
Our second area to consider is Time.
While there is no end to the amount of information about how to manage time, I would strongly argue that it's not about managing time, it's about managing tasks. The difficulty comes from having too many tasks. Our plates are full with things to do all the time and this leads to brain fog, overwhelm and that feeling of being out of control.
Have you had one of those crazy busy days; where you're running around doing a hundred different tasks and spending half that time attempting to do more than one task at a time? This is how we fall into the fallacy of multi-tasking. By the end of the day, you end up feeling exhausted and wondering what you did all day.
The solution is to create a system. And if you are rolling your eyes or shaking you head because you tried a system and it did not work, try again. Systems are NOT a one-size fits all solution. You often have to try different ones and one of the keys is to know what does and does not work for you. You need a system customized for you according to how you think, live and work.
Which brings us to Freedom.
Ah, Freedom- even the word sounds nice. When you have too much stuff surrounding you or you have too much to think about, freedom is the last thing you have. Instead you experience confusion, chaos and a lack of control. None of us wants that in our lives. This is the opposite of freedom and definitely does not give us mental clarity.
– – – – – – – – – – – – –
Mental clarity comes from creating a physical space that allows you to feel supported because you have surrounded yourself with stuff that you need and that brings you joy. Clarity comes from having a system to organize your tasks so you feel in control of how you spend your time. The knowledge that you are in control of your space and time creates FREEDOM. And at the end of the day, each of us wants the clarity and freedom to create the life and business that we truly want.