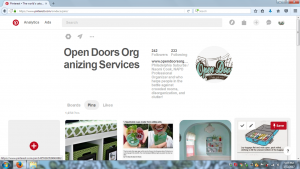 There are a lot of social networking sites out there. There's Facebook, Twitter and Instagram; but what about Pinterest, "The World's Catalog of Ideas"
Pinterest members can create an unlimited number of themed virtual pinboards of products and ideas that they are interested in such as organization for example! In turn, these virtual boards can be followed by others and "pins" can be "repinned" onto their own boards. As social networking sites are pretty much all interlinked, your ideas can be shared with a wider audience that just those who are users of Pinterest.
As with almost everything, there are positives and negatives. No worries though, the positives far outweigh the negatives! Those negatives seem to vanish after the learning curve.
Let's get those pitfalls out of the way first. I've been a Pinterest user for several years now and quickly learned the following things:
It can become a "time suck"! On the first evening that I joined Pinterest and started scrolling through pins, I found myself warmly inundated with tons of "pins" featuring all of the things that I loved! I bonded with strangers who shared my interests and set off to create my own boards. I stayed up until the wee hours of the morning!
Leading to procrastination! I found myself wanting to scroll and pin and scroll and pin all day and night. I found myself putting off a small task here or there and that's when I knew I was stuck on Pinterest. Get it…stuck, as in pinned, on Pinterest?!
And then to frustration! After I had been following boards for a while, including those of friends, colleagues and acquaintances, I learned that it takes a long time to scroll to the bottom of the main feed. However, I am a persistent person and always tried to get there, even if it was 1 am!
Now for the good stuff, otherwise known as the power of Pinterest!
It can keep you organized! Pinterest allows you to virtually store your ideas. This is much better than clipping pages from catalogs and articles from magazines that you would then have to figure out where to store them. Who needs all that paper clutter!
– For example, create a board for your pantry which could use an overhaul! Give it a fun Name like Giddy Up, Tidy Up My Pantry!

– After creating the board, use the Description area as a place to keep measurements of the heights between shelves as well as the length and depth of the shelves. Add in any products that you think you'll want, that are on the top of your head, so that you won't forget to look for them later. Having this quick reference guide will come in handy as you are doing your shopping!

– Then decide if you want to keep the board a Secret! Maybe you'll want the big reveal to show off on your other social media! You can share your secret with anyone you want though, these are your Collaborators.
The search bar can take you anywhere you can imagine! If you're having a bad day and nothing beats looking at cute baby animals, then type in cute baby animals and voila! Create a new board and save your favorites. They will be there for your viewing pleasure anytime.
You can shop! Eek! Yes, one stop shopping! After you do a search, say for organizing products, you'll see another menu of choices directly below. Click on buyable pins and they are all organizing products that you can buy DIRECTLY from companies, like Wayfair for example. Click on Add to Bag and it will show up in your shopping bag at the top of the page just like any other online retailer. How cool is that? Obviously the more specific you get with a search, the closer the products will be to the type you are looking for such as organizing products for pantry. No more shopping retailer sites one at a time!
However you decide to use Pinterest just have fun with it. Search for me at Open Doors Organizing Services…and keep an eye on that clock!