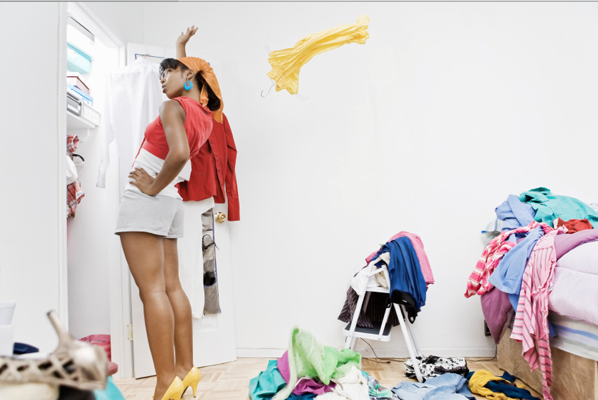 Look around everywhere you turn is clothing
It's everywhere that you go [look around]
You try everything you can to escape
The pain of piles that you know [piles that you know]
When all else fails and you long to be
Something better than you are today
I know a place where you can get away
It's called The Container Store, and here's what it's for, so…
Come on, vogue
Let your body shop to the muzak [shop to the muzak]
Hey, hey, hey
Come on, vogue
Let your body go with the flow [go with the flow]
You know you can do it!
-By Madonna, and slightly tweaked by me! ☺  
So…the holidays are over now. You've probably returned some clothes that you received (perhaps an ugly holiday sweater) but still kept some as well.  Problem though…your closet is packed and there's no room for even one more thing!
No worries, let's take it step by step, so you don't get overwhelmed! Do one step a day if you need.
Step 1 – Grab a trash bag and skim through the shelves and rods, and look for any items you obviously know that you don't like to wear anymore, even if they fit fine. Put all the items in the bag(s), which you can take to consign (if you have expensive pieces) or donate. Immediately put the bag(s) in the trunk of your car. If they stay nearby, the level of temptation to put things back will be high. That's why many Professional Organizers will offer to take your bags for you! Well that, plus we are just nice people who like helping others!
Step 2 – Shelf by shelf and with sections of hanging, bring the clothes out and set them on your bed. You are now going to look for items that are stained or ripped and beyond cleaning or repair. Again, if you have some expensive pieces, try your hand at a dry cleaner and a tailor. Otherwise, break out another trash bag and let those items go. Temptation isn't nearly as high for this bag, right?!
Step 3 – Aside from the clothes that you like to wear left in the closet, there are bound to be many that you still hold onto for nostalgia's sake or because you want them for when you can fit into them again. Perhaps you've heard the statistic that people wear only 20% of their clothing 80% of the time.  Don't worry…I'm not going to be too hard on you here! Purchase some clear bins (perhaps at The Container Store!) that can sit on the top shelves of your closet. Those clothes will be going in there for now. You'll still be aware that those items are there, but they won't be taking up your valuable space. Every few months, or at least in another year, pull the bins down to gauge your feelings about the clothing inside.
Step 4 – Now's the time for some fun! Put those new clothes on and dance around (perhaps doing the Vogue!) as if it is your own small fashion show, and celebrate the fact that you now have room for these new pieces!
Step 5 – After regaining your composure and your breath (ha ha) you can put your clothing on the many empty hangers that you have made available.
Here's to you and a happy and clutter-free New Year!