Making Adjustments
We are all adjusting to our present environment. I stopped at Wegman's on Friday afternoon and saw over 70 customers with masks standing about six feet apart and circling around half the huge store. It was a strange feeling and I felt like I was in an old Twilight Zone episode from the 1960's. I believe the title of the episode could be "Social Distancing" since we hear this term so frequently. I believe it more accurately should be called "Physical Distancing". Physical Distancing is a more appropriate description as we are looking to have physical distance but not looking to limit our social interaction. I am using Physical Distancing in this blog.
Organizing
I am in the auction business and have had the opportunity to work regularly with Professional Organizers. I have been impressed to recently learn a good number of Professional Organizers offer virtual organizing services. Even more impressive is how many have been virtually organizing with clients for years. Virtual Organizing maintains the physical distancing needed in our challenging environment while providing the social interaction and discipline to focus on tasks. I know this is not always easy when you try to organize alone…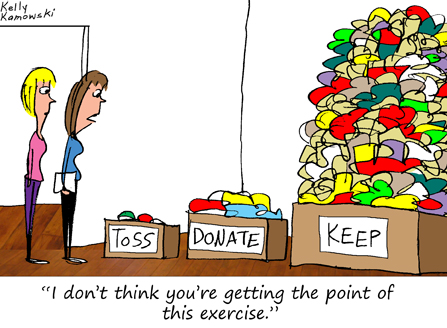 What Can I Sell?
An auction specialist can efficiently help professional organizers and their clients as there is need to sell personal property by identifying valuable items through pictures. Pictures provided electronically (emails, texts, digital albums, etc.) are physical distancing appropriate and the timeliness and efficiency helps keep an organizing project moving forward.
The technology available to provide pictures including details like artist signatures and manufacturer or maker marks has been part of a dramatic change in the auction world over the past 25 years. Wait times to coordinate an initial visit and get started have largely been replaced with progress and information much more quickly through introductory phone conversations and pictures.
STUFFocating
There are many people who have inherited or collected items through the years and these items fill their storage spaces and extra rooms of their homes over time. Many of these clients are what I call "Stuffocating".
Those feeling like they are Stuffocating do not know how to get started dealing with it all and have little idea which of their old and vintage items have value in today's market. Their items look like they could be valuable or have family stories indicating they are valuable. I often hear comments like "Aunt Flossie said these were worth money" or "I saw one that looked just like this on "Antiques Road Show". They often can use some help from a professional organizer and/or auction house to have an effective plan and make noticeable progress.
Physical Distancing for Bidders at Auction
Technology introduced over the past 25 years has helped the selling side of auctions to continue with physical distancing intact. Internet bidding platforms make it easy for buyers to bid on their cell phone, iPad, computer or any device connected to the internet.
Bidding by phone with an auction associate or leaving bids in advance is often available as well. Many auction houses have also added live online bidding available through their own websites.
Auction previews on-site are extremely limited presently. However, good online catalogs provide auction bidders with descriptions and auction estimates as well as an array of pictures showing detail for each item being sold. Online catalogs are typically available on the auction house website as well as the internet bidding platforms.
The Twilight Zone
We are in a dimension of challenge and spacing. Through technology and creativity, we can function in the world of organizing and auctions while we may feel like we are ….In the Twilight Zone.
Author is Tim Zeigler, Kamelot Auction House, www.kamelotauctions.com. Direct contact at 215-815-4983 and .