I used to think I was very clever whenever I advised people about gift giving for special occasions and holidays. I would always suggest that when selecting gifts for people who actually have material plenty to give beautiful "disposables." I observed that wonderful self-destructive options abound: wines, beautiful candles, delightful oils, luscious baked goods and candies, elegant lotions, fancy soaps…You see what I mean. And they don't last forever! What a great idea!
Then, I started to discover that many of my clients – people who were trying their best to de-clutter – were given so many of the very disposables I routinely suggested that I couldn't imagine how many lifetimes would be needed to use up all these treasures. It is possible to overdo absolutely anything.
So, what to do?? Depending on the closeness of the relationships, perhaps some frank discussions are possible. Can your entire extended family happily agree to pool money and go somewhere really special? Would treating someone to a lovely dinner or show be a delightful novelty? Someone else might love a membership or a day at the zoo or a favorite museum. Maybe the whole family would chip in to hire a chef or caterer to create a marvelous holiday dinner, so no one has the stress of cooking, hosting, or cleanup.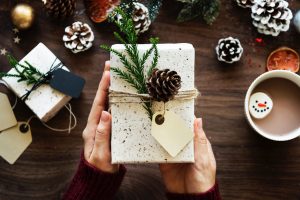 This year, really think about and talk about your gifts. So many of us are truly overloaded with objects, but would benefit from a certificate for a manicure, a massage, dog-walking services, baby-sitting, or perhaps a lovely outing to a tea shop for a long talk with you.
There are also gift cards and certificates for companies where your friend or relative will truly benefit from some extra freedom to choose something they need. One of my clients was actually given a generous check made out to her Professional Organizer! Moved by the friend's thoughtfulness, the organizer (me) gave the client extra time.
Especially in the midst of all the natural disasters surrounding us, would your loved ones be thrilled (and relieved) if you made a charitable donation in their honor?
You can see where I'm going with this: make this a year of thinking outside the box with gifts that don't go in a box at all. The key to success with these plans is the gift of intimacy, your shared comfort in discussing your true preferences, ideas, and suggestions.
Happy Holidays!