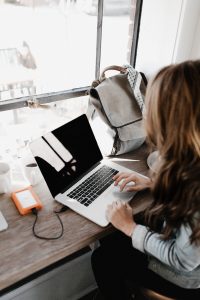 I am a parent of two older teens, one in the first year of college and one in the later years of high school. As an organizer, my kids grew up with structure and routine, in hopes of them learning to be organized as adults. Our home was organized, our mornings ran fairly smoothly, and homework was completed without any issues. There were a few sticky points, such as screen time and bed time, but for the most part, our daily lives ran smoothly overall.
Now that they are older, the organizer mom in me still wants to help them be the most efficient they can be. But the cognitive side of my brain knows that now is the time to let go, and let them make their own decisions. I should only help them when they ask me for it. However, it is very difficult for me to sit back and watch them make mistakes such as scheduling two events for the same time, or running late for something. But I know the only way they will learn is by my stepping back and giving them the control to manage their own time, schedules, and things. They will make mistakes, and learn from them.
As hard as this is for me to let things go, I am getting better at it. I still sometimes find myself jumping in when I shouldn't, and they both let me know when I am intervening where I shouldn't be. I just take note of this, and try to not make that mistake again in the future.
I am sure I am not alone, being a parent during this transitional time. I wish all of you the inner strength and patience to step back, and let your teens develop into the wonderful young adults we all want them to be!