When Laura Kelleher saw a Facebook contest to win a room makeover, she didn't realize the full effect of uploading a photo of her messy playroom. The contest was the first annual 'Home Makeover Facebook Contest' run by NAPO-GPC as a way to celebrate January as GO Month, or 'Get Organized Month,' in order to offer encouragement to people to start the New Year off with less clutter, less stress, and more clarity. After being selected as one of five finalists, the Kelleher family was selected as the 2017 winner.
Laura and her husband Tom, of Horsham, PA, live in a quiet suburban neighborhood with their three active children. The playroom, which is the first visible space upon entering the house, is a hub of creativity and imagination, particularly for the two older boys, ages 6 and 10, who build with Legos, collect dinosaurs, decorate the room with their artwork, and have a large collection of cars, trucks and collectibles. Then there is their 10-month-old baby sister who is just starting to explore the world of her big brothers. Getting the playroom organized was becoming an urgent need with stray Lego pieces within their baby sister's reach.
The overarching goal for organizing the room was based on the fact that both of their sons are autistic. The lack of a clear system for the boys to access their toys and art projects created stress and an inability to function smoothly at home. Although both Tom and Laura knew their boys would respond well to systems and order, the project was too overwhelming for them to tackle on their own.
So on March 31, eight organizers from NAPO-GPC volunteered their time and talents to plunge into the Kelleher's playroom. After clearing the room of all toys, books, and games, the professional organizers assembled five IKEA shelving units, sorted and categorized the vast variety of toys, and then brought it all together into a beautiful, well-ordered system. Laura and Tom worked alongside the team making decisions and securing the units to the wall.  When completed, there was an entire section devoted to Legos, a bookcase for all craft items and books, and bins specifically dedicated to toddler toys.
The team completed the makeover in under five hours and then they waited for the boys to arrive home from school. It was like a surprise party and Christmas rolled into one! Now the brothers could rediscover their treasures and everything had a place! Bins were labeled and lids protected against the dangers of small pieces. No longer a stress zone, the family could enjoy the playroom as intended.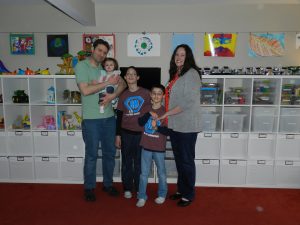 Click on the above title to learn more about the featured author.