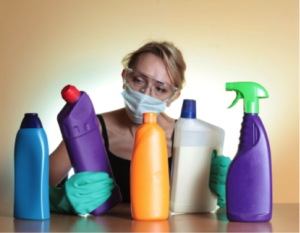 Most of us haven't taken a close look at the chemical content of our common household cleaners, skin care products and makeup to find out that there are dangerous chemicals lurking in the ingredients list. The next time you are clearing out your cabinets by yourself or with one of us, Professional Organizers, don't just look at the expiration dates, check the ingredients and keep the information below in mind.
I went to a meeting hosted by Physicians for Social Responsibility, a group that looks at potential hazards facing our society. At the meeting, they showed a short video by Annie Leonard called the "Story of Cosmetics." The video was followed by a discussion questioning the pervasive use of toxic chemicals in our beauty products, from lipstick to baby shampoo, chemicals that are known to contain carcinogens, neurotoxins, reproductive toxins and heavy metals, like lead and mercury. I was shocked to find out that lipsticks contain lead. Although I understand that it is hard to live in a lead free world, as Annie Leonard questions, "Do we have to put lead in our lipsticks?" I even found this to be the case when I went searching for new lipsticks in Whole Foods in the "organic" cosmetic department!
Harmful chemicals are not just in our cosmetic bags. Our homes are filled with fumes from harmful petrochemical solvents that are added to everyday house cleaners. "The average household contains anywhere from 3 to 25 gallons of toxic materials, most of which are in cleaners," notes Ava Anderson, a young entrepreneur, who at age 14 went in search of personal care products that did not contain harmful chemicals and couldn't find any. In response, Ava started her own company selling healthier choices for skin care and cleaning products. At the heart of her company is a commitment to educate the public about the chemical content in products we use without worry or concern for their potential cumulative and lasting effects to our health and wellbeing.
Like Annie Leonard, Ava's research finds disturbing facts that most of us do not know, facts that might shape our buying habits moving forward. Below are highlights from Ava's list:
That Europe bans 1,371 toxic chemicals from their personal care products and the US bans only 11.
The FDA does not regulate the personal care products industry and hopes that cosmetic companies will do their due diligence and issue safe products.
"Safe," "organic" and "natural" do not mean your products do not contain any toxic chemicals as well.
According to the President's Cancer Panel only 10% of cancer is genetic and 90% is caused by environmental factors.
Below are Gaiam Life's "8 Household Cleaning Agents to Avoid" and why:
Chlorinated phenols found in toilet bowl cleaners – toxic to respiratory and circulatory systems
Diethylene glycol found in window cleaners – depresses the nervous system
Phenols found in disinfectants –  toxic to respiratory and circulatory systems
Nonylphenol ethoxylate, a common surfactant (detergent) found in laundry detergents and all-purpose cleaners, is banned in Europe; it has been shown to biodegrade slowly into even more toxic compounds
Formaldehyde found in spray and wick deodorizers – respiratory irritant and suspected carcinogen
Petroleum solvents in floor cleaners – damage mucous membranes
Perchloroethylene, a spot remover –  causes liver and kidney damage
Butyl cellosolve, common in all-purpose, window and other types of cleaners- damages bone marrow, the nervous system, kidneys and the liver
The "All You" website also has a list of 6 chemical hazards hiding in your home, for those of you who are interested in more information.
If like me, after confronting this information, you're heading to your cupboards, toiletry bags and makeup kit to do some tossing, the next question would be, "then what can I use instead?" Below are suggestions to get you started using baking soda, white vinegar, fresh lemons and coconut oil.
Baking Soda
Here are suggested uses for baking soda from The Farmer's Almanac and "All You" websites:
as a stain remover for your carpets
to combat bad smells from sneakers to bad breath
to brighten your laundry and remove perspiration stains
to fight dandruff and heartburn
to offer instant relief from bug bites, sunburn and poison ivy
in your bath water, to relieve sunburn and itchy skin
to exfoliate your skin
White Vinegar
White vinegar can replace many common cleaning products you now may want to avoid. Here are suggestions from the "All You" website:
Use a solution of half water and half vinegar to freshen up the fridge.
To kill bathroom germs, spray full-strength vinegar around the sink and tub.
For antiperspirant stains, rub gently with vinegar.
For toilets, pour a cup or more of white distilled vinegar into the bowl, let sit overnight, then scrub with a toilet brush and flush.
For carpet stains, make a paste of 2 tablespoons white distilled vinegar and ¼ cup salt or baking soda, rub into the stain and let dry, then vacuum the residue the next day (test an out-of-sight part of the carpet first).
To get rid of lime buildup on faucets by making a paste of 1 teaspoon vinegar and 2 tablespoons salt and apply to sink fixtures by rubbing it in with a cloth.
Lemons
Lemons offer alternatives to both cleaning products and beauty care. Here are suggestions from the "All You" website:
For stains, add ½ cup lemon juice to a load of white laundry, then let dry in the sun.
To remove soap scum on showers walls and doors, put lemon juice on a sponge and wipe.
Shine brass and copper by sprinkling salt on half a lemon, rub it into the metal, then wash clean.
Remove rust, mix 1 tablespoon of lemon juice with 2 tablespoons of salt to make a rust removing paste.
For bad breath, gargle with lemon juice and water to kill odor-causing bacteria.
To soften skin, make a body scrub combining lemon zest with sugar and soak the mixture with olive oil for 30 minutes.
Soak fingers in lemon juice for five minutes to whiten yellow nails.
Put lemon juice on blackheads at night to clear up skin.
Coconut Oil
Coconut is the newest addition to my healthier cabinets & toiletry bag. Here are some of my favorites uses from the "Derm Store."
body moisturizer to hydrate skin
eye makeup remover
Its anti-inflammatory, antioxidant and anti-bacterial properties make it a good alternative remedy for diaper rash.
treatment for frizzy hair
For post menopause, a great lubricant…. Wink, wink, say no more!
Well, I hope you found some good, enticing alternative product ideas for your mop closet and makeup bag. It has been fun trying out and discovering healthier products and now, sharing them with all of you. May you too enjoy your journey towards healthier products.