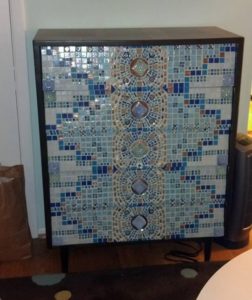 Do you enjoy spending an afternoon crafting (otherwise lovingly known to me and my friends as a Crafternoon)?
Do your materials and supplies seem to multiply like Gremlins?
Do you buy more supplies because you can't find the ones that you already have?
Do you dread clean up time because you don't know where to put things? Or do you avoid it all together?
The good news is that as an artist, no matter what medium you work with or how messy you can get, you have a natural love of color. Using this to your advantage is one way of helping you to set up an organized system that will work for you, and one that you will also end up loving. Continue on and see how you can teach your creative brain to love order.
Using Color to Organize
For artists who work with mosaics (my craft of choice!), jewelry, fabric and yarn, this is a great method for organizing. Artists are visual beings and the tendency is to want to see everything in front of you. Organizing by color helps to curb the need to dump everything onto your work surface, by just choosing what color you need at the time and knowing the rest of the colors are just a quick glance away.
Using Categories to Organize
For artists who paint and draw, this may be the best method for you. All colors need to be exposed to you when you work, but you can organize by medium. Acrylics, oils, charcoal, colored pencils and pastels should be kept separate. By keeping this organizational system, you can easily keep track of what's running low. More good news is that by taking care of your materials in this way (which can be expensive, right?) you can prolong their life and avoid having to buy replacements for colors that have gone missing. Imagine being in a creative zone, only to find that you are missing what you need. Ugh!
So now that we have discussed the different ways to organize, it's time to find storage options that will work best for you. You can think outside of the box, and you don't need to go for the expensive predictable storage options at craft stores like Michaels. As both an organizer and an artist, my passion lies in helping people get organized and finding creative storage solutions on the cheap.
If you work with a lot of different colors and categories, a smart solution is a good old fashioned clear plastic bin. They come in a variety of shapes and sizes, yet offer the uniformity that makes for building a visually pleasing and calming organizational space. Found almost anywhere, and less expensive when bought in bulk, these beauties let you appreciate and enjoy what you have. If you are using color to organize, then let the color be the label for you. If you are using categories, create fun labels by painting 'Acrylic Paints' in acrylic, 'Pastels' in pastel, and so on, and then laminate them with an easy laminating kit that you can do at home.
Want to know how I organize my mosaics? Yes, I store some in clear plastic bins, but I also store some in a mosaic tiled dresser that I made! Yes, that's it in the picture!
Click on the title above to learn more about the featured author.