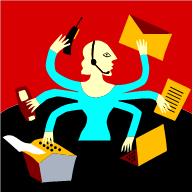 Happy New Year and Happy National Get Organized Month! I always set a few goals for myself and my business each New Year and organizing certainly plays a key role in accomplishing those goals. Over the years clients have asked for my assistance for many different reasons including New Year's resolutions.
On the other hand, those resolutions are often derailed because "life happens." Whether you are ready or not, you could lose your job, suffer through an illness, or deal with a divorce. You can't always be prepared for the ups and downs of life, but being organized can help. Here are my ten organization basics to help you handle the uncertainties of life and achieve those pesky resolutions you are so adamant in keeping. Let's break it down:
If it takes less than 60 seconds, do it! Whether it's putting bills away, making a quick phone call, adding a number to your phone, sending a quick email, do it! Take seconds now or hours later.
A home for everything. Finding a home means you know where to put it when it gets misplaced and when you need it — it's there!
Choose a time management tool. Use a day planner or smartphone to keep track of appointments, tasks lists, self-appointments, and vacation plans.
Keep lists. Use your time management tool for all lists: clothing, household items, food, gifts, etc. Keep sizes and dimensions on the list. Lists save time and money and no more buying things twice (you aren't the only one).  
Consolidate contact information. Gather mailing addresses, emails, and phone numbers and place them in your time management tool. No more little pieces of paper and sticky notes all over the place.
Convenience is the key. No digging and no searching. Place things where you use them; keep most-used items front and center — no pushing other things aside to get to what you need.
Focus! Small and large task completion requires focus. Break down any large task into smaller, manageable pieces and stay focused: one bite at a time.
Know what to eliminate. Surround yourself with tasks, events, and people who support your goals. Eliminate the rest and learn to say "no" (I have a handout on my website).
Consult the experts. Don't reinvent the wheel; ask friends for recommendations and referrals; consult the Internet (but don't believe everything you read); and then trust your judgment.
Maintenance! Things will get out of order (even in my home), so do a little each evening or once a week in order to keep it that way. Have respect for yourself, your time, and your home. Every time you put something away, it's a gift to yourself.
Whether you are making resolutions are just trying to smooth out life's bumps in the road, get organized! You'll be glad you did.
Clutter Quote: "God takes care of the breath of your life; it is your responsibility to take care of the depth of your life." Unknown